Despite the unusual name, Hide My Ass (sometimes known simply as HMA) is a very capable VPN solution. Like the others mentioned here, the simplest approach is to download and install their "HMA! Pro VPN" app – but bear in mind that the Mac version is a beta version (i.e. there may be the occasional glitch) and requires that you join their community on Google+ to get started. However, the app itself has a wealth of configuration options and even displays your billing and account information, as well as allowing you to select the country where you want to appear, plus other useful features such as the speed achievable available at each location.
HMA has also been recommended by an impressive list of companies such as Forbes, Guardian, Yahoo!, Bloomberg and the Wall Street Journal, which might give you extra peace of mind about using it.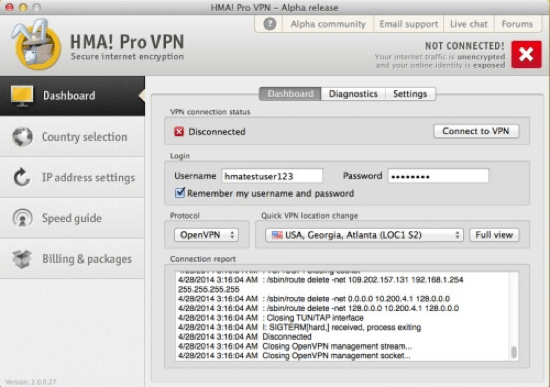 Price
Just like the other VPNs mentioned, one subscription covers all devices and allows you to use it on several simultaneously.
They also provide a 30 day money-back guarantee, and the prices are currently a tiny bit cheaper than ExpressVPN:
$11.52 per month for 1 month only
$8.33 per month for 6 months (billed every 6 months)
$6.55 per month for 12 months (billed every 12 months)
Security & Protocols
In terms of protocols, Hide My Ass supports OpenVPN and PPTP protocols – they recommend OpenVPN. However, there is no mention of other protocols such as SSTP. Therefore, it's wise to check if your ISP blocks any of them – though if it doesn't work you could always request a refund!
Speed
In the Speed Guide section of the VPN application, there's a list of servers along with the distance away (usually the further away the more of an issue speed may be). However, there's also a very useful speed test capability via 3 options: Ping Test, Express Test and Full Test (which gives you the most accurate measurements).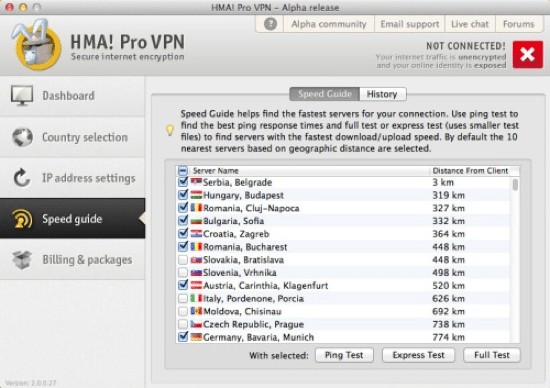 Servers / Locations
Hide My Ass has an impressive 189 server locations in 91 countries, one of the best among the VPNs we reviewed. Their complete server list can be found here. Even though more servers is generally a good thing, make sure they have one in the country that you want to use!
Ease of Use / Installation
Because Hide My Ass recommends an application for installation, like the others it's very easy to setup – it keeps an icon in your menu bar that you can use to launch the app. There has been a lot of thought and effort gone into the application which is packed with features, giving plenty of opportunity to check each server location, bandwidth, as well as your account information.
Was this post helpful?
Let us know if you liked the post. That's the only way we can improve.