PureVPN certainly impresses with the amount of information on the website, all presented in an easy to understand and slick way. PureVPN provides its Mac services via a desktop application (or an iOS app), in addition to various business-oriented plans and even corporate branded apps. There are also lots of add-ons available such as firewalls, a 'stealth browser', dedicated IP address and speed boosts up to 20 Mbps for streaming. And in terms of customer support and global footprint, they certainly appear to have good credentials as far as being responsive and providing good service.
Price
For many people, price may be the key factor, but it's worth noting that PureVPN offers a try before you buy trial, in addition to a very clear pricing policy (and a 3 day money back guarantee)
Current prices are as follows:
$9.95 per month for 1 month
$7.47 per month for 6 months
$4.16 per month for 12 months
When we checked, there were even greater discounts available if you sign up within minutes (a countdown timer starts on the website), so it might be best to check them out first on another computer and then sign up afresh to get the best price. An added bonus is that if you refer friends, you'll also get a bit of cash back.
PureVPN also has by far the widest choice of payment methods, giving added convenience for many users.
Security & Protocols
PureVPN lists PPTP, L2TP/IPSec, SSTP, OpenVPN, and IKEv2 security protocols (more than any other we looked at). Remember that the benefit here is that if you ISP blocks one or more, then you can easily switch to another one.
Additionally, 256-bit encryption is supported – this means it would take quite a concerted effort in order to actually snoop on your traffic (and would require some serious supercomputer power). In effect, 256-bit encryption is extremely secure and makes it almost impossible to break the code…
Speed
As is the norm, the VPN speed is not restricted in any way. The desktop app also makes it simple to find the quickest server automatically, so you don't need to spend hours checking them all. It's quite hard to really say definitively how quick each VPN is without weeks of extended use, but they all promise 'unrestricted speed' and gigabit switches, so it's fair to say that in terms of what they claim, they're all fairly similar. PureVPN does however, claim it's the world's fastest…
Servers / Location
With 335 server locations in 53 countries and unlimited switching (i.e. you choose a server) between servers, there's not much to differentiate PureVPN from the other contenders in our list. Europe, Asia and the Americas are particularly well covered.
Ease of Use / Installation
For the manual setup option, there are step-by-step tutorials on the website in addition to the custom desktop software, that has one of the best interfaces we've seen. For iOS, the app is available on the App Store here. One nice touch is the 'Dashboard' option which provides a quick overview of the protocol and country, as well as the connection status. You can also view all the relevant settings in addition to billing information. Overall, it's very easy to use and has a plethora of options and configuration options.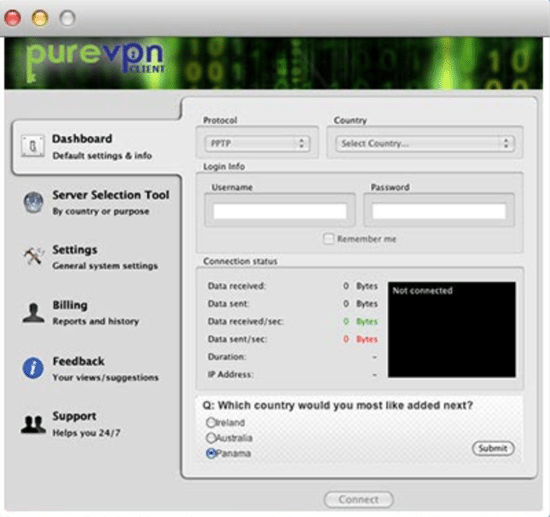 Was this post helpful?
Let us know if you liked the post. That's the only way we can improve.