StrongVPN is a US company (based in San Francisco) that's been going since 1994 – they make a big deal of this on their website, and it's easy to see why – trusting a VPN provider is extremely important. Their website is a little more fussy than for example Hide My Ass and ExpressVPN, but there's also lots more information on there to digest, as well as some excellent forums and blogs. In terms of support, they also provide round-the-clock service, and the support pages are extremely detailed with tonnes of useful information (though hopefully you won't need to use it). We found that StrongVPN was the best in terms of explaining the difference between all the different protocols and technologies, and advising which solution you need (e.g. if you want it for mobile devices or computers, and other information such as all about their security protocols and encryption).
Price
StrongVPN has what might initially look like a confusing pricing structure (compared to the others), and unfortunately there's no month-by-month option (minimum sign-up is 3 months). However, their website automatically identifies your current geographical location and presents a simple list of price and package options (i.e. a choice of servers) that are available in the country you're in (as well as user feedback from customers in that area). 3 month packages cost around $21 (equivalent to $7 a month) or $55 for one year – which is excellent value indeed. Note that there is currently no free trial period on offer.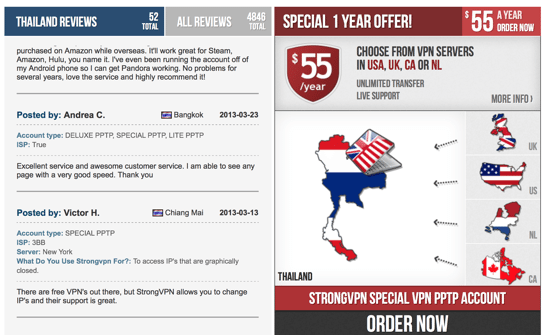 Security & Protocols
As shown below, StrongVPN offers packages based on security with both PPTP or OpenVPN available. OpenVPN packages provide the best security and are likewise more expensive. But in terms of configurability, if you want the maximum flexibility and security you're best off going with the OpenVPN packages.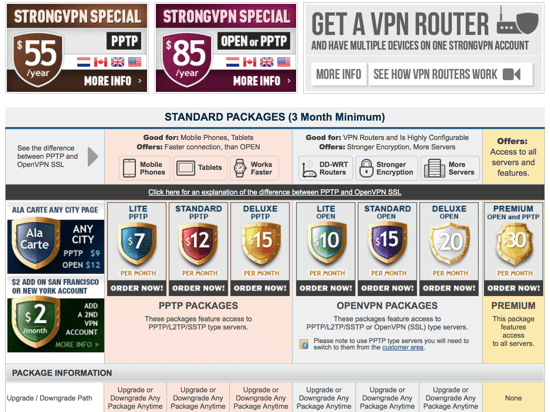 Speed
StrongVPN advertises the fact that network speeds are unrestricted (like the others on here) and not throttled, but there aren't any tools in the Mac application to check the actual speed available or do speed tests – you can check speeds via an interactive map on the website however here. In this case, although it's unlikely to present an issue, you'll have to take their word for it until you've had a chance to install the software and check real-world performance.
Servers / Locations
Just like the other VPN companies, StrongVPN has a broad presence with server locations dotted around the world – claiming hundreds of servers in up to 20 countries (though this depends on the package), so while it doesn't the most we've seen, it should certainly be enough choice for the majority of uses.
Ease of Use / Installation
StrongVPN provides a bespoke Mac client application (the basic UI is shown below), which lets you quickly switch between servers and locations, as well as choose the security protocol (PPTP or OpenVPN if you have the right package). It's not quite as feature rich as, say, Hide My Ass, but it does what it's supposed to which is to get you connected and allow you to see your connection status.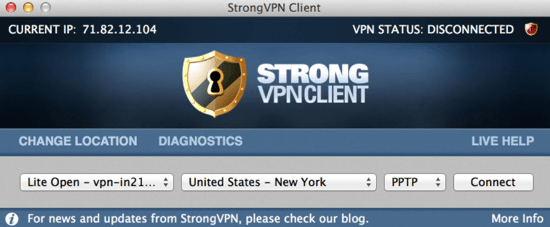 Was this post helpful?
Let us know if you liked the post. That's the only way we can improve.